我被学生举报了!
A student reported me on Monday morning!
We were discussing in class whether rich people or poor people made greater contributions to society.  One girl got very angry, and spoke up, saying that I was advocating discrimination against poor people and that she would report me!
This semester, I taught "Practical Writing." I made my "plan" for the chapter on "Business Writing" according to the objectives identified in that chapter. The first objective is to "strengthen the study of policy learning and build global awareness."
I told the students that policy should be interpreted according to law and common sense. Sometimes some policies go against common sense. For example, the Cultural Revolution campaign to "Smashing the Four Old Things [old customs, cultures, habits, and ideas] and Establishing the Four New Things [new customs, new culture, new habits, new ideas]" was contrary to common sense, damaging both traditional culture and cultural relics.
The villagers in Zhuge Village, Lanxi, Zhejiang Province were very wise. They pasted mud on old buildings to cover up the fine wood carvings. After the reform and opening began, these exquisite wood carvings were uncovered. They preserved a valuable cultural heritage for humanity. There is a precious woodcut long couplet in the Liu Bowen Emperor Temple of Wencheng Nantian. The villagers feared that the couplet would be destroyed. So they painted revolutionary slogans on the back of the woodcut and rehung it. It was saved and now the town treasures it in the town temple.
Therefore, there are some things that are just common sense and don't require an advanced education to make decisions about. Just as the question as to whether who contributes more to society, the poor or the rich, it is a question we can resolve through our own common sense.
"The poor are barely able to afford their own food and clothing and even sometimes rely on welfare from the state to survive. What about the rich? What do they contribute to society?" I asked the students.
"Do the rich contribute to society?" Some students said that they pay taxes. I said yes, this is just one part of their contribution. The rich can use their wealth to expand production and create more jobs for workers. When people's material life is satisfied, they will have more time to pursue their hobbies and values. They get involved in and support things like scientific research, literary and artistic creation, engaging in philanthropy, building beautiful buildings, accumulating material and spiritual wealth for society. However, a civilized country must be kind to the poor. We must use public policies to provide welfare for the poor so that they will live in dignity.
I was being straightforward about my views.  Suddenly, a girl stood up and said, "Teacher, you are advocating discrimination against poor people! I will make a public report about you."
I said: "We can discuss different view. When I finish, you can talk about the contribution of the poor to society." She blushes and says indignantly: "I don't want to discuss this with you. You are advocating discrimination against poor people. I will make a public report you!"
"Okay! Making a public report about people is your right. I give you fulsome praise for reporting on me by name! You are glorious and upright." I gave her two thumbs up and praised her!
Some students report anonymously. I think of that as a secret report. In the university classroom, many problems and ideas can be discussed and argued about. Academic independence and freedom of thought will cultivate innovative talents. Having students act like spies does not foster a positive outlook.
Last year, students reported on me anonymously. In the classroom, I told students that they need to develop their capacity for independent thought. Don't let anyone tell you that the wind is rain or you will suffer for it. I told that that during the Cultural Revolution there were many Red Guards younger than yourselves who died gloriously while they were still very young. Both fighting Red Guard factions declared that they were fighting for Chairman Mao and swore to fight to the death to defend Chairman Mao. After they died, they are neither heroes nor villains. Their parents are still asking the government to account for the deaths of their children.
Can you imagine how painful this has been for their families? The Cultural Revolution occurred largely due to a cult of personality. The Communist Party learned this lesson and wrote a prohibition against cult of personality into the Party Constitution. I was astonished to see some students blushing and saying: "Teacher, you are saying bad things about Chairman Mao!" I said, "I have reasons for this. The disaster caused by the decade of the Cultural Revolution to our country were discussed in the in the "Resolutions on Certain Historical Issues of the Party since the Founding of the People's Republic of China". The prohibition against cult of personality is stipulated in the current party constitution.
I never expected that the next morning I would get a phone call from the school leadership calling me to a meeting in the principal's office. I had heard that the reporting process goes like this: the student reports to the department head, the department head reports to the school, and the school reports to the Academic Affairs Office, and the Academic Affairs Office reports to the school's Communist Party Committee.
I don't hold anything against students who make reports. I don't ask questions to find out is reporting on me. The practice disgusts me. When as a class teacher working with students, I never relied on used an informant. I often talk with students and learn from what they have to say. I listen to people with various opinions, and am always reading more books in order to expand my horizons, improve my mind and improve my knowledge. However, there will always students who cannot tolerate different views and thoughts. Although the Cultural Revolution took place over 50 years ago, the ideology of the Cultural Revolution is still out there and there is always the danger that it might recur.
That girl even made a report to express her dissatisfaction with me. But she was honest enough to do so openly so I much prefer her to those who report secretly. She may be concerned about the poor due to simple sympathy with people from her own class or out of a feeling of responsibility for the country and worry about the future of the nation. She may be afraid that teachers will say bad things and broadcast bad ideologies in the classroom that poison young people. Therefore, I did feel any anger at all towards her but I do feel sad for her.
What makes me particularly disturbed is that the Party Secretary, who had studied abroad, was also alarmed. Just after class, the Party Secretary called and asked me,
"What happened? Why have you been reported by your students?"
"I said in class, 'let's discuss whether the poor or the rich have contributed more to society.'"
The Party Secretary said that reports from all students who file a public report must be investigated.
The next day, many students were called in for a talk. Now many teachers in colleges and universities have been reported by students. Some had to move to a different position. Others were laid off or even fired from public employment. A lot of friends called me on WeChat asking me to be careful and be sure to protect myself. Teachers has become a high-risk occupation. As a teacher, one will always some personal opinions and opinions when one is explaining something. If we just taught to the text, the students would complain that class is very boring. All textbooks need to be enriched with extracurricular content to make class more lively and interesting.
However, as to what should be said or should not be said, I don't know where that invisible line really lies!
-END-
https://mp.weixin.qq.com/s/Jv2haHKMbgxL81gRZhCtrQ
我被学生举报了!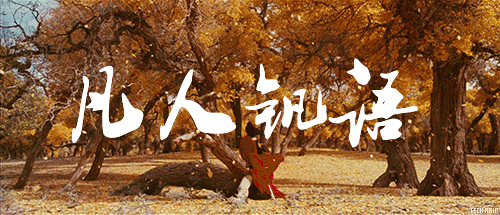 周一上午,我被学生举报了!
我在上课时讨论穷人对社会贡献大,还是富人对社会贡献大。有个女生很愤怒,说我歧视穷人,要举报我!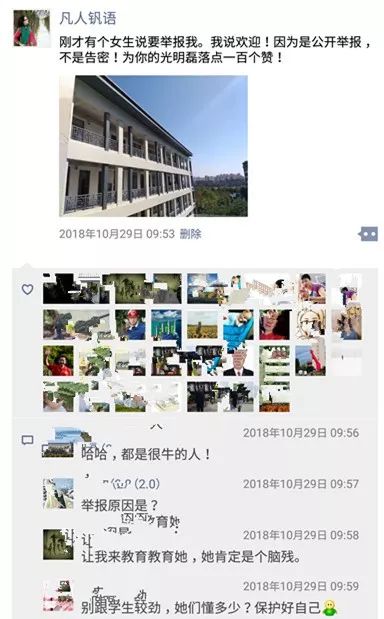 本学期,我上《实用文体写作》。教"事务文书"一章的"计划"时,按书本内容讲写作要求。其中的第一点讲写计划要"加强政策学习,树立全局意识"。我跟学生说,解读政策要用法律和常识去解读。有时,有些政策会背离常识,比如"破四旧立四新"运动就背离了常识,致使文化和文物遭受破坏。浙江兰溪诸葛村的村民就很有智慧,他们把古建筑糊上泥巴刷上灰浆,把精美的木雕巧妙地掩藏起来。改革开放后,这些精美的木雕重见天日,为人类遗留了宝贵的文化遗产。文成南田的刘伯温帝师庙,有一副珍贵的木刻长对联。当时村民怕对联被打砸毁坏,在背面刷上革命标语,倒过来挂在墙上,得以保存,如今成为镇庙之宝。
因此,有些常识性的东西是无需用高深的知识去判断的。就像穷人对社会有贡献,还是富人对社会有贡献这样的问题,就是常识性问题。
穷人,勉强维持温饱,甚至要靠国家的福利保障维持生活。而富人呢?我问学生:富人对社会有啥贡献?有学生说,纳税。我说是的,这仅仅是一个方面。富人可以利用财富扩大生产,为工人提供更多的工作岗位。当人们物质生活满足了,就会有更多的时间追求自己的兴趣爱好和人生价值。他们从事科学研究、文艺创作,从事慈善事业,建造精美建筑等等,为社会积累了物质财物和精神财富。但是,一个文明国家,要善待穷人。要利用公共政策,为穷人提供福利保障,让穷人过体面有尊严的生活。
我侃侃而谈,突然,有个女生站起来说:"老师,你这是歧视穷人!我要实名举报你!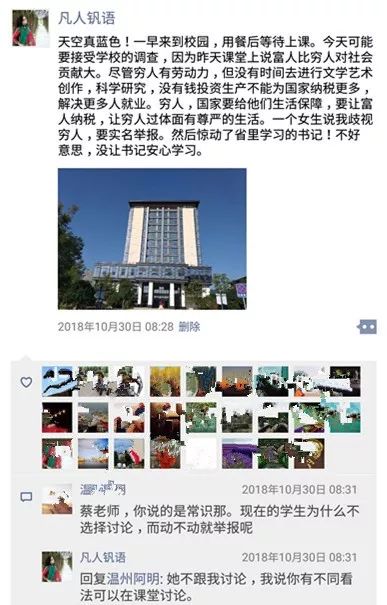 我说:"有不同观点可以讨论,等我说完,你可以说说穷人对社会的贡献。"她涨红着脸,愤愤地说:"我不想讨论,你这是歧视穷人,我要举报你!"
"好吧!举报是你的权利。对你的实名举报,我给你点一百个赞!为你的光明磊落。"我伸出大拇指为她点赞!
有些学生匿名举报,在我看来就是个告密者。大学课堂,很多问题观点思想都是可以相互交流探讨碰撞的。学术独立思想自由,才会培养出创新型人才。学生搞得像间谍暗探似的,不利于培养学生的阳光型人格。
去年,我被学生匿名举报过。在课堂上,我告诉学生要养成独立思考问题的能力,不要听到风就是雨,否则要吃亏的。我说,文革中有不少红卫兵,年纪比你们还小,年纪轻轻地就光荣牺牲了。武斗的两派都宣称自己是毛主席的好战士,要誓死保卫毛主席。他们死后,既不是英雄也不是狗熊。他们的父母至今还希望政府对他们死去的儿女有个交代,这对于一个家庭是多么伤痛的事啊?文革发生的原因很大程度上是因为个人崇拜,所以我们党吸取教训,把禁止个人崇拜写入党章。想不到有好几位学生红着脸:"老师,你说毛主席的坏话!"我说,我讲的都是有依据的。十年文革给我们国家造成的灾难,在《建国以来党的若干历史问题的决议》里有阐述。禁止个人崇拜,在现行党章中就有规定。
想不到,第二天一早,校领导就电话通知我到校长室谈话了。从谈话中得知,举报流程是这样的:学生向班主任反映,班主任反映到学院,学院上报到教务处,教务处向校党委报告。
我对举报的学生没有任何成见,也不想刨根问底去深究举报者是谁。我非常厌恶这种做法,我担任班主任管理学生工作时,也从不用线人。我常常跟学生讲,兼听则明,要学会倾听不同的声音,要多读好书,拓展视野,训练思维,提高认识。但总有学生容不得不同的观点和思想,文革已经过去了五十多年,文革的思维依然存在,时时有死灰复燃的危险。
这位女生,尽管也采取举报的方式来表达对我的不满。但光明磊落,比起告密者要高尚许多。她也许是怀着朴素的阶级感情,为穷人着想,为国家负责,为民族担忧。亦或是怕教师在课堂上散布不良言论和思想,毒害青年。因此,我没有丝毫怨恨她,只是心底里感到悲哀。
尤其让我深感不安的是,这事竟然还惊动了在外学习的书记。刚一下课,书记就打来电话,问我怎么回事?你怎么又被学生举报了?我说,就说了穷人和富人谁对社会贡献更大?书记说,凡是学生实名举报的,一律要立案调查。
第二天,果然有好几个学生被叫去谈话。现在多所高校的教师被学生举报导致换岗、下岗甚至开除公职。好多朋友发来微信叫我小心,注意保护好自己。看来,教师也是个高危职业。作为教师,讲解时总难免有些个人的见解和观点。照本宣科,又可能会被学生轰下讲坛。所有的教材,都要充实课外的内容,课堂才会生动有趣。但是,到底哪些话该说,哪些话不该说,心里真的没底呢!
-END-