"Whoever Heard of a Teacher Who Doesn't Speak?"
Xu Zhangrun: Having dedicated myself to a teaching career, I have to repeat what Hu Shih said eighty years ago, "Whoever heard of a teacher who doesn't speak?"  People must be allowed to hear what is said. This is the only way that we can have dialogue and conversation and be allowed the public spaces that enable us to preserve our humanity. 
Published November 6, 2018 on the Financial Times's Chinese language website at    http://www.ftchinese.com/story/001080109?full=y
Xu Zhangrun 许章润
Classes for Executive MBA students at the School of Economics and Management have begun. Student had searched on China's Baidu search engine, hoping to learn something about their instructors and what they had written that related to course topics. Comparing them with the students of a decade ago, today's executive MBA students average over forty years of age. These men and women are energetic eager to learn.
According my friend Professor Donald Clarke, as of July 29, 2018,  hundreds of thousands of hits that would have come up on a Baidu search on my name had been deleted. Only a dozen or so remained. In the three months since, there have been another bashful twenty or thirty more, mostly incidental mentions in news reports. And so a normal search really wouldn't come up with anything at all.
What was behind this? The only thing I can come up with is the article I wrote towards the end of July this year entitled "Imminent Fears, Immediate Hopes" [translated in full with commentary on the China Heritage website]  that reflected my concerns about the present and great anxiety about what it means for the future. Emotions come whether we want them or not and our words manifest our feelings and will reveal themselves in the end. I know this well and have the guts to make a stand. I have prepared myself mentally for what may come of it. Therefore I don't worry about the deleted items and the blocking of searches on my name. "Don't sweat the small stuff" I say. So I can't get all worked up about it.
They copy the laws of the tyrannical Qin dynasty: the new aristocrats picking up tricks from the old. Two thousand years have passed since those days. There should be some difference between what went before and what came later, but really there hasn't been any progress at all. It is all just a matter of making people shut up. No surprise there.
When Economics and Management School students told me about his, I checked Baidu myself and found that there are still thousands of articles about all those high-ranking officials who have "fallen off their horses" in recent years, such as Zhou Yongkang, Bo Xilai, Lu Wei and "Qi Gong Master Wang Lin". There are more hits on the so-called "Gang of Four", that evil four-player cabal, than there are droplets on the seas on pebbles on the mountains. There is just all kinds of stuff, both fake and factual, that give the readers something of an opportunity to parse historical truth for themselves.
More important, the articles about these people show from different perspectives, of admiration or of condemnation, the soul-twisting institutionalized evils of our own glorious era. These articles reveal to their countless readers the cruelties and weird paradoxes of history. As tiny driblets of lessons merge from countless stories into a mighty current, they become a moral resource fortifying people who will need the strength to prevent the repetition of these tragedies. Not merely to resist particular instances of arbitrary decisions but all of them, to resist all arbitrary decisions.
The past is never quite over. All these learned facts may crystallize a rational intelligence in individuals that in turn may come to synthesize a rational spirit in the public at large. A rational spirit that spotlights common sense and in particular draws attention to whatever is weak or dark in human nature. A rational spirit that protects human society without which we cannot live even for a short while.
All this matters not only for people who read the Chinese language but for the entire world. This affects first of all the Chinese-speaking world. If this were truly self-evident, then the Internet will open up to all, its waters would not be fouled, and my nation and my people would be invigorated.
 One of the terms applied to the "Gang of Four" echoes the verdict of the Chinese Communist Party that accused them of "bringing calamities on the country and the people" and that their crimes were "countless".  All this brings to mind some frightening days of my childhood and the scary days that followed of big show trials while millions of people held their collective breaths. One feels joy more intensely for having known great sorrow so I truly do appreciate that we are not living in a time that, like those frantic days, in which the waves of the class struggle swept over us, "each wave higher than the last".
They "brought calamities upon our country and our people" and committed "countless crimes". There are still tens of thousands of articles online that depict their lives, lists their actions, and even publishing their writings online. I have been a teacher for the past thirty years, and, although I have striven to make a decent living, I have also been "fighting on the front lines of education".  Why would there ever be any reason to erase me from the Internet?   What indeed could be the reason unless someone thinks that somehow by doing this I could simply be evaporated out of this world.
The only explanation I can think of is that somehow we who make our career in education, we people who don't like to fight and have no weapons at all, are even worse than that "Gang of Four" that "brought calamities upon the country and its people."
Once a secretary wrote a draft speech and an official delivered it. The joke goes that in the draft there was a that was a mistake on the last page. Due to a printing error, an auxiliary particle and question mark "me-?" were printed at the bottom of the page. When the official read that page, looked down at his audience, and after a moment, turned the page and read it with as a question and an emphatic tone that gave his audience the impression that he was saying "Zhou Yongkang / Wu Yongkang / Zheng Yongkang / Wang Yongkang / Sima Yongkang were not bad people???
Inspired by this official's example, I must too make a sentence for myself.
"Am I not worse than the Gang of Four?"
 Now we are in the windy season.  They want to make everybody shut up. All I can do is go along. What a foolish and idiotic situation! After all, teaching has been my life's work. Just as that gentleman said over 80 years ago, "Whoever heard of a teacher who doesn't speak?!" If they speak people must be allowed to hear them. That is the only way to have dialogue and conversation. We need to step out of our solitudes and create public spaces so that we can hold on to our humanity. Moreover, it is the very existence of public spaces, and only the existence of those public spaces, that can make us free. That is why this is so important.
How could we ever pretend ignorance of that monstrous spirit that bans mention of us from the Internet and forces us to have no alternative but to use Baidu?
How can this not leave marks on my heart?!
I do not hate those who, on behalf of the abusers, carry out orders to delete or block information and especially not for those who give orders to implement these policies. I can only sympathize with them.
I would just say to those very talented young people, why not get out of this dirty business and find a better job?
We don't realize it but we are all of us caught together in the same dark nether-world. There is only one way we'll be able to get through its many difficult and narrow passages and be rescued.  We will do that by walking together hand-in-hand in sympathy and understanding.
The predicament of our country stirs deep feelings of love for China and worries about its future. Both the sword and the zither are busy these days. The coming of autumn brings a rush of emotions. For myself, I am not greedy – one scoop of water from the many rivers is enough for me.
My friends, what a wonderful world it is that we live in.
---
Hu Shih's poem remembered 80 years later
The title of the article is inspired by Hu Shih's doggerel poem. The fashion at the time was to write fancy literary poems that peasants wouldn't understand. Hu Shih much  preferred writing much closer to popular speech.
At the meeting,  Hu Shih's friend, the Dongfang Ribao newspaper editor Hu Jianzhong, dashed off doggerel at a 1937 conference at Lushan that poked fun at the speakers at the conference who were repeating the same worn out phrases at that very dangerous time.
The conference was held in 1937 just before the outbreak of war with Japan.
The first there speakers were
Republic of China President Chiang Kai-shek
Wang Jingwei
Hu Shih
In the sweltering heat a grand gathering opened in Lushan,
Famed scholars from the eight points of the compass all struggled upstream to attend.
Our country's scholars truly have vast knowledge
One after another, they argue passionately their outmoded views!
Feeling the same way, Hu Shih wrote his own doggerel in response:
Was there ever cat in heat that did not yowl in the Spring?
Was there ever a cicada that did not chirp in the Summer?
Was there ever a frog that did not croak at night?
Was there ever a teacher who did not speak?
Hu Shih's doggerel was later published shortly thereafter in the official KMT newspaper the Central Daily News.  The story goes that  as Chiang Kai-shek's secretary told the story,  "the old man just laughed and laughed" even though CKS was not known for his sense of humor.  Later that July when Zhou Enlai came to Lushan as head of a Communist Party delegation for talks with CKS, he ran into Hu Jiangzhong, Hu Shih's poem came up. Hu Jianzhong said that the poem won a big laugh from Zhou Enlai.
ref http://www.chinanews.com/cul/2014/10-23/6710271.shtml
胡适写白话诗"那有先生不说话" 逗笑蒋介石
2014年10月23日 14:45 来源:人民政协报 
参与互动(

0

)
  一首白话诗逗笑两个大人物
"那有猫儿不叫春,那有蝉儿不鸣夏,那有蛤蟆不夜鸣,那有先生不说话。"胡适写的白话诗,曾经逗得蒋介石与周恩来都一展笑颜。
七七抗战前夕,蒋介石和汪精卫联名,邀请一批社会名流,到庐山来,一面避暑,一面共商抗战大计。出席会议的,几乎全是社会名流,蒋介石的侍从室安排座次时,很动了一番脑筋,最后决定把同姓的人安排坐在一起。当时出席庐山谈话会的有四个姓胡的:胡适、胡安定、胡次威、胡健中。胡健中是《东南日报》的社长,座位刚好紧挨在胡适的右手。谈话会开始后,先是蒋介石讲话,下来汪精卫,第三个是胡适。胡适慷慨激昂地说了一通。胡健中听了,感受颇深,当即在座位上,写了一首诗递给胡适。诗是这样的:"溽暑匡卢盛会开,八方名士溯江来。吾家博士真豪健,慷慨陈辞又一回。"胡适看了,随手写了本文开头的那首白话诗回赠。等于说,国家都到了这个时候了,我这当先生的,怎能不坦陈我的看法呢?
这首白话诗,后来在《中央日报》上刊出。抗战爆发后,蒋介石心情一直很沉重,侍从室人回忆说,很少见到"老头子一笑"。据说蒋介石平素不苟言笑,缺乏幽默感,美国总统罗斯福曾评价蒋介石"古板,极其乏味"。可蒋介石从《中央日报》上读到胡适的这首诗后,不由得笑了起来。1937年7月中下旬,周恩来作为中共代表,到庐山与蒋介石谈判。胡健中在庐山碰到周恩来,交谈中,谈到了胡适的这首诗,念到"哪有先生不说话"时,周恩来也忍不住大笑。
李永军
https://zhuanlan.zhihu.com/p/33618050
胡适回应友人打趣:哪有先生不说话?
一友人看胡适演说起来兴致勃发,风头十足,写了一首打油诗揶揄他:
溽暑匡庐胜会开,
八方名士溯江来。
吾家博士真豪健,
慷慨陈词又一回!
胡适也不生气,开心地写了一首打油诗回赠:
那有猫儿不叫春?
那有蝉儿不鸣夏?
那有蛤蟆不夜鸣?
那有先生不说话?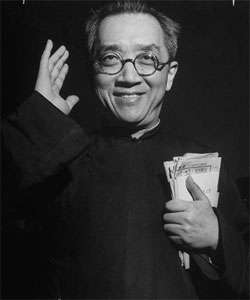 ---
http://www.ftchinese.com/story/001080109?full=y
"哪有先生不说话?!"
许章润:身役教书匠,如八十多年前胡适之先生所言,哪能不说话!而说话就得让人听见,才能构成对话与交谈,让我们获得公共存在,保持人性。
在经管学院为EMBA学员上课。他们搜索百度,希望多了解授课教师,阅读与课程相关的教师著述。跟十来年前相比,今天学员年龄多在四十上下,男女搭配,精力充沛,尚存求知问道的热情。据好友郭丹清教授(Donald Clarke)相告,时惟2018年7月29日,我在百度上的词条从数十万被删到仅剩十条,算是悉数除祛。迄而至今,三月已过,犹有二三十条,羞羞答答,多为新闻报道,而牵连在下名字而已。如此,自然搜索不到任何信息。
揣摩原因,当是缘于今年七月下旬,我撰写《我们当下的恐惧与期待》一文,为当下计,作千岁忧。情非得已,情见乎辞,而终究仿佛情见势屈。我对此心知肚明,对于可能的横逆也早有心理准备,故而对于删除词条、屏蔽姓名一类的"和风细雨",根本不曾留意,更不会往心里去。秦制妙法,新贵旧招,虽两千年往矣,前后有别,却了无进步,总不外钳口二字,何足为奇。
经学员提醒,遂查百度,发现凡近年落马的高官伶优,如周永康、薄熙来、鲁炜与"王林大师"等三教九流,均有数万词条。所谓的"四人帮",万恶的四人帮,更是词连山海,条接云天,多到数不过来。它们林林总总,虚虚实实,多少给予读者拼联历史真相的机会。更为重要的是,这些有关他们的词条内容,从不同视角,讨伐抑或崇仰,展示了酷烈时代的灵魂扭曲和体制罪恶,等于在向亿万读者时时提示历史的吊诡与无情,从而也就是在为避免悲剧重演,于涓滴汇流中积攒抵抗的精神资源。不只是抵抗某一种专断,而是对于一切专断的提防与抵抗。今昔流连之际,孤单的个体理性方始可能串联并合成公共理性,于烛照人性中遵守常识,特别是明了人性的脆弱与幽暗,而护持我们生息其间、须臾不可离易的人世家园。而且,此非仅只惠及汉语读者,而实具普世意义,但首先沾溉汉语世界,自是不言自明,则网开一面,流水不腐,吾族吾民,生机活现也。
其中关于"四人帮"的一个词条,重述当年中共的表述,指斥其犯行"祸国殃民",而罪恶"罄竹难书",令我不禁回想起少年时代的觳觫岁月,以及后来审判大戏登场时的万众屏息,悲喜交加,更加珍惜此刻这个不搞"一浪高过一浪"阶级斗争运动的喘息时光。
他们"祸国殃民",进至于"罄竹难书",尚有数万词条展示其生平,罗列其行止,甚至刊布其作品。在下一介教书匠,三十多年里,但求温饱,"奋战在教学第一线",何至于将我从网上抹掉,或者,似乎认为如此这般就能将我从人间蒸发。
唯一的解释是,我这个底层教书匠,不嗜打架,也不会任何一件兵器,竟然比"祸国殃民"的"四人帮"还坏。
秘书写稿子,官员念稿子。有一个笑话说的是,讲话稿的页末一句是个疑问句,因排版原因,语助词连同疑问号"么?"印在了下一页。这位官员念完这句,环视台下,少顷,庄重翻页,再补充上语助词,音调铿锵,致使现场效果成了"周永康/吴永康/郑永康/王永康/司马永康不是一个坏人﹫#$%&……么?"转借此例,在下接续而来的造句作业是:"我比'四人帮'还坏﹫#$%&……么?"
只是值此八面来风时节,欲令天下无声,惟剩诺诺,何其愚妄,何其滑稽。毕竟,身役教书匠,如八十多年前适之先生所言:"哪有先生不说话?!"而说话就得让人听见,才能构成对话与交谈,让我们摆脱孤立的私性状态,获得公共存在,保持人性。进而,我们的公共存在状态,也唯有这种公共存在状态,才赋予我们以自由。职是之故,对于网络上的封杀,对于造成我们无奈只能用百度而无所选择的那个巨灵,岂能不留意?!又岂能不往心里去?!
因而,对于助纣为虐而下手删除、屏蔽信息的,特别是做出类此决策下达指令的,我并无仇恨,只有满腔的同情!再说了,年纪轻轻,身怀长技,为何不另找一个干净营生?
我们同处幽冥之中,不见熹微,唯以同情援手,手牵手,才能穿过这重重关隘而获救。
暮云朝雨,琴剑匆匆,秋意烂漫,千江一瓢,朋友,人间是多么的美好。
(注:本文仅为作者个人观点。本文编辑王昉 fang.wang@ftchinese.com)