Found the Chinese text of a dramatic call for pneumonia epidemic openness from the media account named 中央政法委长安剑 "Zhang Anjian" of the Central Committee's Political and Legal Affairs Commission . I looked for it after reading William Zheng's South China Morning Post article of January 21, 2020 "China warns Communist Party officials: cover up spread of Wuhan virus and be 'nailed on pillar of shame for eternity'".
Openness, or rather the lack of it, has been a serious problem in China's handling of AIDS, SARS, avian influenza and other epidemics. Has the Party finally gotten religion? Greater openness with the public on the spread of human and veterinary diseases contagious to humans has been Party policy for over a decade. Some progress has been made. Until about ten year ago, the existence of hoof and mouth disease in China was a secret.
However, local officials continue to have great power to control information through their local propaganda committees and security organs. If anything, repression and intimidation have increased under Party Secretary Xi Jinping over the past few years. Increased repression including aggressive enforcement of rules against "spreading rumors" online may well make it harder for information about epidemics in their early stages to get out. Local officials may be tempted to use their powers of repression if they think they can protect their reputations that way. Here the Party is saying "Don't!"

"The pneumonia epidemic threatening us can only be destroyed by being exposed in the "sunlight". Even more awful than infections by the virus is infection by the virus of fear. Only through openness can we reduce those fear as much as possible. People do not life in a vacuum; they cannot be forever kept in locked up, and denied their right to know the truth. That could only give rumors more chances to spread. Whoever for the sake of saving the face of some political hack, who sees that as more important than the well-being of the people, will be remembered in infamy by the Party and the people for a thousand years. Whomsoever, for their own advantage, deliberately delays reporting or sends out false reports will have their names inscribed history's gallery of shame forevermore."

media account of Chinese Communist Party Political and Legal Affairs Commission as reported at https://news.sina.com.tw/article/20200121/34046656.html on January 21, 2020.
Chinese text:
長安劍評疫情:誰把政客的面子 看得比人民利益還重 誰就是黨和人民的千古罪人北京新浪網 (2020-01-21 11:33)分享|
中央政法委長 安劍刊 文稱,肺炎疫情來勢洶洶,只有曝光在「陽光」下,才能殺死它。比病毒傳染更可怕的,是恐慌的傳染。唯有公開,才能最大程度地減少恐慌。人們絕不是活在真空里,不會永遠蒙在鼓裡,剝奪了他們獲取真相的權利,只會給謠言以肆虐的空間。誰把政客的面子,看得比人民利益還重,誰就是黨和人民的千古罪人。誰為了一己之利,刻意遲報瞞報,誰就將永遠被釘在歷史的恥辱柱上。
Zhang Anjian is a Chinese-style superhero embodied by the political and legal affairs commission apparently a superhero crimefighter.
Two weeks ago, eight people were "uncovered" and "educated" by police for spreading "false rumors" about a pneumonia epidemic in Wuhan
Wonder if the guidance applies retroactively?
Punished for not waiting for the official announcement? Chinese students are discussing this case on social media, apparently at some risk to themselves.

Google Translation:
Eight netizens in Wuhan released rumors related to pneumonia
2020-01-01 19:24
According to the Hubei Wuhan Public Security Bureau's report on January 1, 2020, recently, some medical institutions in Wuhan found that they had received multiple pneumonia cases, and the Municipal Health and Health Commission issued a briefing on this. However, some netizens published and forwarded false information on the Internet without verification, causing adverse social impact. After investigation and verification by the public security organs, eight illegal personnel have been summoned and handled according to law.
The police reminded everyone that the Internet is not a place outside the law. Posting information and remarks on the Internet should be done in accordance with laws and regulations. The police will investigate and punish illegal acts that fabricate, spread and spread rumors and disrupt social order, and will not tolerate them. It is hoped that the majority of netizens will abide by relevant laws and regulations, will not create rumors, believe rumors, or spread rumors, and build a harmonious and clean cyberspace.
Text / Beijing Youth Daily reporter Dai Youqing
武汉8名网友发布涉肺炎谣言被查处
2020-01-01 19:24
据湖北武汉市公安局2020年1月1日通报,近期,武汉市部分医疗机构发现接诊了多例肺炎病例,市卫健委就此发布了情况通报。但一些网民在不经核实的情况下,在网络上发布、转发不实信息,造成不良社会影响。公安机关经调查核实,已传唤8名违法人员,并依法进行了处理。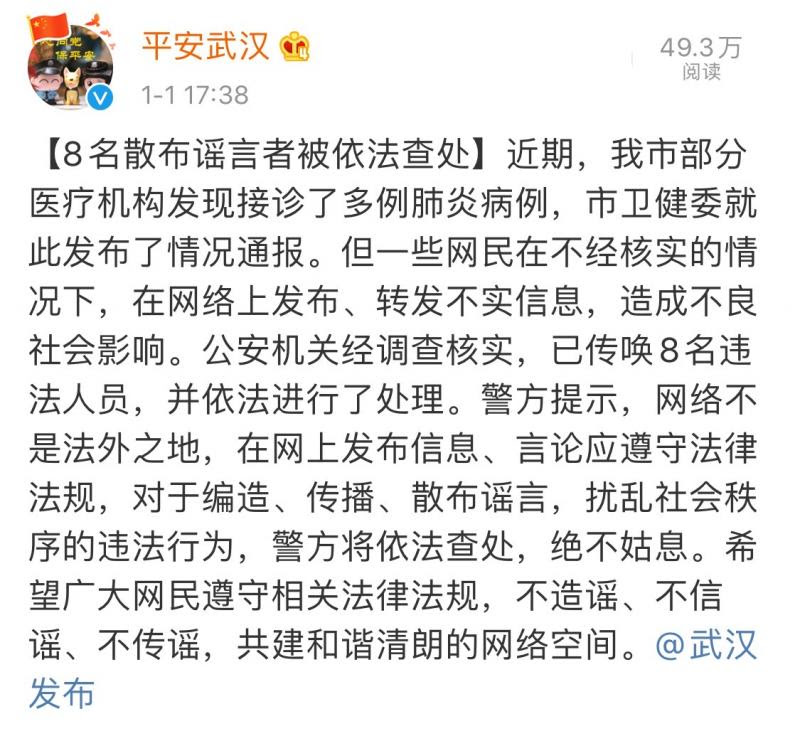 Chinese Online Journalist Michael Anti in Beijing Comments on the Coronavirus Epidemic
"Some local officials act as if appointed not to serve humanity but to serve the virus. They interrogate physicians who reveal the epidemic, lock up those who warn about it online, and unreasonably give big banquets as if their main mission were to optimize the virus' spread."

January 22, 2020 on Michael Anti's Twitter feed @mranti

Michael Anti@mranti · 2h这次疫情有些地方官员的表现,已经不像是人类任命的官员,却很像是病毒任命的官员,约谈透露疫情的医生,关押提醒公众有疫情的网民,顶风办万人宴,处处以本区病毒传播效果最大化为最高使命。
The eight people accused of spreading false rumors of a SARS epidemic were all physicians. The virus had not yet been identified; it resembled SARS. The eight physicians passed along the information to social media chat groups for physicians:
First paragraph; see Prof Yang's entire Twitter thread posting here.
The costs of stability at all costs: On January 1, well before the Wuhan #coronaravirus spread en masse and more than a week before the virus was identified, the Wuhan police announced that it had dealt with eight people for spreading untruthful information about "Wuhan viral pneumonia" in accordance with law. Official news reports of the time say that the Wuhan police wanted to remind people it would be unrelenting in dealing with those who concoct and spread rumors (xinhuanet.com/2020-01/01/c_1…). This news item was prominently carried on China Central TV and major outlets as well as online. It had a chilling effect on those who saw the early signs of a then emerging epidemic. This crackdown was clearly part of a coordinated effort by the Wuhan leadership.