February 14th The 23rd Day of the Wuhan City Closure
Today is Valentine's Day. Before all this happened, I had planned to Hubei Theater and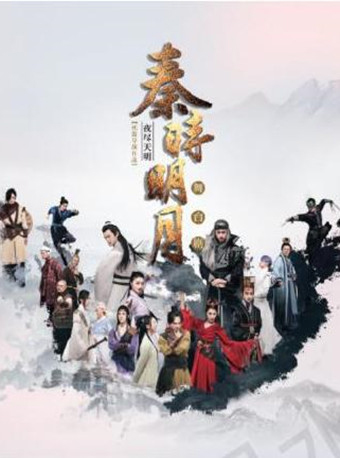 watch the musical Qin's Moon. But now everything is on hold. From three meals a day down to two. I do some simple exercises after waking up, have brunch, read books. memorize vocabulary words, have dinner, finish the day's diary entry, watch a movie and then go to bed. I've lived every day like this for three weeks. My life has never been this regular since I graduated from senior high school. I sleep go to be early, wake up early, don't drink Coke, milk, tea or any junk food. I expect I won't be able to live this way again until I retire. Life without junk food is no fun though.
It rained all yesterday night. I couldn't sleep very well because the noise of the rain. Raging thunderclaps woke me up at 6 AM. While having lunch, my Mom told me there's an old saying "Thunder in January drills penetrates deep into the bones". I checked the lunar calendar. Today is the 21st day of the first lunar month. Suddenly I felt depressed. I shook all over and had goose bumps.
Since the day before yesterday, every Wuhan officially locked down each and every neighborhood. This didn't affect my family one bit. I'm the only one who throws out the garbage and picks up packages. My parents haven't been outside for twenty-three days. I couldn't remember without checking my diary the last time I went outside. Nobody pays any attention in our community. People are still entering and leaving. I am in a WeChat group with friends I've known for years who live all around the three component parts of Wuhan– Wuchang. Hankou and Hanyang. Every day we discuss and compare the anti-infection measures of each of our communities. My community is definitely in last place.
But I don't want to criticize all the community workers in Wuhan. They have faced huge risks and pressure. Many have caught the coronavirus these days. There have been many misunderstandings, people have abused them, and they have been expected to do things and to handle pressures far beyond their capabilities.
A few days ago, some posted a plea for help online: an old man with Parkinson's disease had been left alone at home without any help. His wife passed away due to coronavirus pneumonia. His children and grandchildren were all either away from Wuhan, in the hospital or in quarantine. The notice included the telephone number for his community office. My friends outside Wuhan even shared it with me and asked if there was any way to help him. I happened to have a friend living in that community and so I asked her about it. She told me a completely different story: the children of this old man hadn't been taking care of him. The grandson, who was perfectly healthy, lived in another building in the same community. The community had been sending the old man food. The old man could not be independent due to his Parkinson's disease and his children had the unrealistic expectation that the community to provide nursing care. I do not want to "totally reject the original story" nor do I mean to say that what my friend told me is 100% factual. I just want to say that grass-roots community work involves many details and complications. Human nature is not something that we can alter to suit.
The saddest part what happened to the old man. A friend told me that he passed away two days after being admitted to the hospital.
No matter what people on the lower rungs of society should not be harming one another.
A few days ago. a former classmate's community purchased rubbing alcohol in big bottles. He asked me if if I wanted some. I hesitated but eventually turned them down. A 5 liter bottle is too big for my household. I was surprised that my classmate was able to put some into a smaller bottle for me and drive over to deliver it to me. That was a big help with my most serious emergency.
When all Wuhan was locked down, and the everybody was worry about the virus, my friend sent just what I most needed. I will remember his kindness for the rest of my life. I thought it very strange that group purchases of medical alcohol could be arranged online. Last week a seller canceled my order for alcohol wipes today I had placed a week ago. The seller told me that the government had requisitioned their entire stock. This was not the first time I got this kind of message. My friend put a lot of effort into placing an order for 300 face masks. The seller, however, cancelled the order minutes before they were to be shipped because the government had requisitioned them. I asked friends working in hospitals about medical supplies. They replied that the hospitals are severely short of almost everything. Meanwhile, many protective materials could still be group purchased online.
Who on earth prevents citizens from buying things the normal way but then forces us to buy in a "special way" at much higher prices? Why are hospitals still short in medical supplies if the government has already requisitioned many supplies and many donations have come in from all over the world? What is the story here? I don't know. I may never know.
During mealtimes my family talked about the epidemic prevention work in Qianjiang. Hubei. which many people have been praising.
Mom: Qianjiang's approach illustrates that the leader is someone who assume responsibility. That kind of person ought to be promoted.
Me: The leader's excellent work makes the leaders of other cities look bad. They will want to be rid of him.
Mom: How can that be! When someone themselves can't do well, how can they not allow others to do well?
Me: What "well" depends on who is doing the talking. These officials are all responsible to their leaders, their superiors, not to us common people.
Mom: The ordinary people have all expressed their opinion! Shouldn't the leaders listen?
Me: It doesn't matter what the citizens say. The citizens have no voice at all in the selection of these officials.
—
My original thought was. since I had already gone that far. and that the next logical step should be "people should have the right to choose their leaders". I never thought that.
……
Mom: Nevertheless I still think that if someone wants to be a leader he should get there by his own efforts!
……
For a a moment I was struck dumb. I didn't know what to say.
I watched a Taiwanese drama last night. and there was a line: "The more people understand what freedom is. the more freedom they will have."
Chinese text:
2月14日武汉封城第23天
今天是情人节,原本的计划是下班后去湖北剧院看舞台剧《秦时明月》。
然而现在的日子却如静止了一般。
三餐缩减为两顿,每天起床后简单运动,吃早午餐,看书、背单词,晚餐,完成当天的日记,看电影,睡觉。
如此往复,已经循环了三周。
我过着从高中毕业后就没有过的规律生活,早睡早起,不喝可乐、不喝奶茶、不吃垃圾食品。恐怕我下一次过这样的生活得等到退休以后了。
然而,没有垃圾食品的人生了无乐趣。
昨晚下了整晚大雨,噼里啪啦的雨声让人睡不安稳,早上六点多更是突然被一声劈天巨雷惊醒。
中午吃饭的时候老妈告诉我,老话里讲"正月打雷人骨堆",我随手翻了翻日历,今天是农历正月二十一。
突然就觉得阴恻恻的,浑身起了层鸡皮疙瘩。
从前天开始,武汉正式封小区了,这件事对我家没有什么影响,一来我家除了我会出门扔垃圾、拿快递,我爸妈已经整整23天没有出门了,我自己不看日记都想不起上次出门是什么时候;二来是因为——我们社区根本就没有人管嘛,小区仍然自由出入。我有一个微信小群,群里是认识了很多年的朋友,分散在武汉三镇,我们每天都在群里更新对比各自社区的防疫措施,毫无意外我们社区永远垫底。
但是我无意因此否定全武汉的社区工作人员,因为我知道他们承受了非常大的风险和压力,他们中的很多人也已经在这段时间的工作中感染。我听说了很多误解和辱骂,而这些压力原本就超出了他们的职责和能力。
前几天有一个求助在网上流传:一位已经感染的帕金森老人,老伴因为新型肺炎去世,他的子女儿孙不是在外地,就是住院或隔离,只剩老人一个人在家无人救助,求助中还留下了社区办公室电话。我的外地朋友们也专门转发给我,问武汉本地有没有什么救助渠道。说来也巧,我正好有位朋友住在这个社区,就问了她,没想到听到的是完全不同的故事:老人的子女对老人一直不管不顾,而且老人健康的孙子就住在同一个小区的其它楼栋,社区其实也一直在给老人家里送菜,只是老人有帕金森缺乏自理能力,老人的儿孙对社区的工作要求是达到护工的标准,但是这显然是不切实际的要求。我不是想制造一个所谓"反转"的故事,也不是认定朋友的讲述就是100%的"事实",我只是想说社区的基层工作非常琐碎而复杂,人性更是无法琢磨的东西。
最可怜的是老人,听朋友说老人入院的第二天就过世了。
无论怎样,底层不应该互害。
前几天同学的社区团购了大瓶装的医用酒精,问我要不要,犹豫再三后我还是拒绝了,对我家而言5L的容量实在是太多了。没想到同学专门分装了一小瓶,今天趁着出门采购开车给我送了过来,着实解了我的燃眉之急。
在武汉全城封锁,每个人内心都盘桓着病毒的阴影时,我的朋友专程给我送来了我此时最需要的东西。这份情意我会一辈子都记得。
说起来市面上团购的医用酒精我一直很奇怪。我上周在网上下单了一份酒精湿巾的订单,今天全额退款了,店家告诉我货物全部被政府征用,这已经不是我第一次遇到这种情况了,我的朋友辗转买到的300个口罩也在寄出前因为征用被取消订单;我也问过在医院工作的朋友,各个医院现在仍然是各类物资奇缺;但是同时市面上又有大量货物在团购交易。到底是谁在逼着我们普通百姓无法从正常渠道,一定要通过"特殊渠道"高价来买到这些东西呢?为什么在政府征用了那么多物资、各方的捐助也源源不断的时候,医院却还是缺乏物资呢?这中间有什么故事?
我不知道。我可能永远也不会知道。
吃饭时家人聊起这次很多人赞赏的湖北潜江的防疫工作。
我妈:潜江的做法说明他们的领导是个敢承担责任的人,应该提拔。
我说:他做得好只会衬托出别的城市、别的领导做得不好,恐怕会被排挤。
我妈:那怎么行!自己做得不好还不许别人做得好么?!
我说:这个"好"要看谁来说。这些官员都是对领导的、对上级负责,不是对我们这些老百姓负责。
我妈:老百姓都说好!他们领导难道不听?!
我说:老百姓说好有什么用,这些当官的又不是老百姓选的。
我本来想着,已经引导到这个地步了,下一步总该得出"还是应该有选举权"这个结论吧,万万没想到——
我妈:还是应该当领导往上爬!
……
我竟然一时语塞,不知该说些什么。
昨晚看了一部台剧,其中有一句台词"对自由有多大的理解,就有多大的自由"。