February 15: The 24th day of Wuhan City Closure
There was another thunderstorm last night. I turned off all the lights in my room, opened my curtains and lay on my bed. The night was very dark; maybe because most of the city's neon lights are off. The sky held no moon or stars. There was only the occasional flash of lightning, pouring rain, and the wind howling near my ear. This morning we had a big snowstorm. All day long from snow flakes dropped our biggest snowstorm of the season.
I hope now that the storm is over Spring will finally come. I also hope that the two emergency field hospitals won't leak anymore.
Last night, before going to sleep, I saw a friend, a nurse working on the front lines, in our WeChat friends' group. I chatted with her briefly. Since the epidemic began, I haven't had much contact with my medical worker friends. I just send them brief messages just to make sure that they are alright. I am afraid that asking them too many questions would burden people who are already very busy.
Her WeChat story was about the events of February 9th. That night Wuchang district brought together some diagnosed patients who had not yet been hospitalized for
treatment. While they were being transferred to hospitals (anyone with eyes to see would realize that is what was going on) many of the patients were trapped out in the cold with no way to get admitted to the hospital. This happened because the local communities and the street committees didn't coordinate with each other so everything was organized very poorly. Media reports aroused public anger. On February 10, team sent by the Communist Party Central Committee to direct work met with the Wuchang District leader. During those discussions, someone blamed the delays in making timely arrangements for patients on petty formalities in hospital admissions.
Before I saw my nurse friend's comments in our friends' WeChat group, I had already seen sarcastic comments by several physician friends who independently confirmed what the nurse had said. They angrily condemned the Wuchang District government for shirking its responsibilities. These friends said that on the afternoon of February 9th they had already prepared the hospital wards to receive the patients. They flatly contradicting what the government said. If you were to ask me whom to believe, the answer is obvious.
This wasn't the first time that government officials "shifted the blame" to the hospitals. Wuhan Mayor Zhou Xianwang during his interview with Chinese Central Television said that fourteen physicians and nurses of the Neurosurgery Department of Wuhan Union Hospital were infected with the new coronavirus pneumonia because "the Neurosurgery Department ignored the fact that the patient had contracted new coronavirus pneumonia before being admitted". That statement angered the physicians and nurses who then publicly contradicted the Mayor. This protest may well have been what caused Wuhan Union Hospital later to be unfairly discriminated against in the allocation of supplies.
How can anything get done when all those officials are just spineless power-abusing cowards! If there were just one coward, perhaps that could be explained away as "an accident". What explanation can be found for the behavior of the miserable vermin who flood our government offices?
Now stricter measures closing off each and every individual community have begun. My community issued an announcement on the community WeChat group explaining which entrances had been closed. Everyone was asked to stay home and not go outside. The notice did not mention deliveries. That was a major oversight. I haven't gone out yet so I don't know if we really have a "strict closure of the entire village". I think it would be fairly difficult to seal off our community. Many other communities have stipulated that each household can arrange one person to leave the community to go shopping every three days or else the community organizes a group purchase of vegetables. My community has done nothing of the sort. Will express company employees be allowed to enter our community to deliver items we ordered online? How do we pick up delivered items? I posed these questions in the community WeChat group but got no answer.
A friend told me an interesting story. His community sent an infected old man in his 80s to a quarantine camp after being diagnosed with a mild case of coronavirus pneumonia fled the camp and returned home without permission. Community staff, police and his son tried, but failed, to persuade him to return to the camp to be quarantined. They had no alternative but to allow the old man to home quarantine and posted a notice to that effect to the community. His neighbors were surprised the next day to see him exercising downstairs and putting out the trash. That caused an uproar.
Aiyah, considering the level of management skills and quarantine effectiveness in my community, I just have no idea how long we'll be stuck at home.
Yesterday, I was still wondering how with the huge quantities of medical supplies that the government was requisitioning, how it could be that the hospitals were still short of supplies. Where did all those supplies go? Yesterday I saw two news items that gave me some background.
First someone on a WeChat independent social media analyzed lists of supplies shipped from the Wuhan Red Cross Society of China official website. For example, on February 11th, 80.53% of the N95 face masks were distributed to government and administrative departments. That means that only 19.47% was sent to the designated hospitals and the prefabricated modular hospitals.
Second, someone from outside Wuhan made explosive allegations on Weibo that in his area a group purchase of face masks had been organized. The supplied claimed to be in Henan however the shipping information sent after the shipment had been made
indicated that the supplies had actually been sent from Wuhan. After receiving the goods, they looked up detailed information of the sender. The sender's information was: He Jie, Workers Cultural Palace of Hannan, Wuhan Federation of Trade Unions, and outside of the box were written words: "Rescue Supplies". In this case, I don't want to leave out the real name of the sender. If corrected information comes out later, I will record it in this diary. The allegations are elaborate, complete, damning in their detail and supported by photographs. I find the information credible.
Looking at these two items together, it is clear what is going on. Only why should they care if we know? They know that we know but we still can't do anything about it. That is what "totalitarianism" means: when we do good things, you must attribute it to the superiority of our system. If we do bad things, you must keep your mouths shut.
Two days ago, when the news of the "plasma treatment" for new coronavirus pneumonia ha just came out, I saw someone in our local WeChat group "reminding" us that we should be prudent about forwarding that news because it was suspected of being "fake news fabricated by forces from outside China Mainland to deliberately disrupt medical work on the front line." The person who wrote that seemed to be a teacher.
Today I saw the video blog of a volunteer who was busy running around help the sick. When he shared his video blog, someone said "Don't be providing material that will help forces outside Mainland China. That's the top priority."
I just don't know how to express the feelings I have when I read things like that. I feel that if continue to do in-depth investigations, I will drown myself in feelings of despair and resentment. I feel even worse about these kinds of comments than I do about the epidemic itself. The degree of sadness I feel towards this kind of comment surpasses even the epidemic itself. The Chinese have been reduced to a pitiful state. They can't even allow others to see their grief or their tears. If they do so, they are condemned for being "not patriotic" and for lacking "devotion to the Chinese Communist Party". Compared with the collective, the individual seems to count for nothing.
I watched a Taiwanese drama recently about an innocent and lighthearted school romance. Even though the show wasn't especially good, I had complicated feelings about it because all the characters could very naturally and casually say they "wanted to make their own way in freedom".
In Mainland China "freedom" is among the "core values of socialism". However, whenever anyone says that they want to be a free individual, they feel shame, they fear being ridiculed, and feel the need to be vigilant and cautious about what they say. Many people subconsciously realize that "we need to seek truth from facts"… The problem with that approach though is that it makes it hard to be so frank, open and natural.
I am very envious.
Chinese text:
2月15日 武汉封城第24天
昨晚又是一整晚的电闪雷鸣暴雨倾盆,我关掉房间里的一切光源,拉开窗帘,躺在床上,窗外是沉沉的黑夜,大概因为城中霓虹灯大多关闭的缘故,夜色比以往还要暗沉许多。
天上无月、无星,偶尔有闪电划破夜空,耳畔有倾盆而下的雨声和呼啸而过的风声。
今天则是大雪,狂风卷着雪花刮了一整天,这个冬天以来好像是第一次下了这么久的大雪。
希望这场雨雪以后能迎来真正的春天,以及,两座神山不要再漏水了。
昨晚睡前看到一个正在一线的护士朋友发的朋友圈,拉着她简单的聊了两句。
疫情发生到现在,我很少跟我的医护朋友们联系,仅有寥寥数语的问候和祝福,互相确认安好。我担心过多的嘱咐和疑问会成为他们繁忙工作中的负担。
她的这条朋友圈内容,事情的缘起是在2月9日,当天晚上武昌区安排了一批确诊未入院的患者集中收治,在转院的过程中(明眼人都能看出来)因为社区和街道的衔接无序、组织混乱,导致了大批患者在凌晨还无法正常入院,随着媒体的报道更引起了舆论发酵。2月10日,中央来的指导组约谈了武昌区长,在这个过程中有人将原因解释为医院方面入院手续繁琐,导致病人没有办法及时安排。
在这个护士朋友发的朋友圈内容之前,我已经看到几个医生朋友的吐槽了,不约而同地对武昌区政府的推诿非常气愤,据这些朋友们说,他们在当天下午已经整理出了病区,做好了交接人员的安排,与政府一方的解释大相径庭。
如果问我相信谁,那当然是不言自明了。
这已经不是政府官员第一次"甩锅"给医院。1月21日,市长周先旺就曾在央视的采访中称,14名脑神经外科的医护人员感染上新型肺炎是因为"脑神经外科忽视了这位病人入院前有新型冠状病毒感染",当时这番说辞曾引起过协和医护人员的公开反驳,甚至可能因此直接导致协和医院在物资分配中的不公遭遇。
你们看,所谓的"官员"都是这种没有担当滥用权力的懦夫,能干成什么事啊。
如果一个人是懦夫,或许还能解释为"意外",现在这样完全由蠹虫充斥的政府衙门,又该怎么解释呢?
开始执行"更严格"的社区封闭措施了,我们社区群里也发了通知,对封闭了哪些出入口做了说明,并要求所有居民呆在家中不要外出,但是对于物资供应却半个字都没有提,这实在是太粗糙了。我没有出门,不知道是不是真的实现了"硬性全封闭",以我对我们社区的了解恐怕是比较难的。其他很多社区规定了每户每三天可以安排一人外出采购,或是有社区组织的蔬菜团购,这些安排我们社区都没有,网上下单的外卖和快递派送员是否可以入内呢?取件如何安排?我在群里提出了问题,却没有人答复我。
朋友跟我讲了一件有意思的事情,他们社区有一位八十多岁的老人确诊轻症,社区把他送到集中隔离点后他自己跑回家了,社区工作人员、派出所民警和他的亲生儿子上门劝说,仍然不愿意集中隔离,最后没有办法,只好由他自行居家隔离,并在社区内做了通报,没想到第二天就有同楼栋的邻居看到这个爹爹下楼锻炼、扔垃圾……结果整个社区的人都炸了锅。
唉,照这个社区管理水平和隔离效果,真的不知道我们要在家呆到什么时候了。
昨天我还在问,大量的医疗物资被政府强制征用,医院依然急缺,究竟是什么原因,大量的物资去了哪里,今天就看到两则内容:
一是,有民间自媒体分析了武汉红十字会官网发布的物资分发清单,以2月11日为例,发放的N95口罩中,发放给医院之外的政府机构及行政部门占总量的80.53%,发放给各定点医院及方舱医院的仅占总量的19.47%。
第二,有一个外地人发微博爆料,当地组织的一个口罩团购,联系的货源据称来自河南,发货后物流信息却显示发货地是武汉,收到货以后他们查询了详细的寄件人信息,为:武汉总工会汉南工人文化宫何洁,外包装的箱子上还有"救援物资"的字样,在这种情况下寄件人的真实姓名我也不想打码了,如果以后有更新的消息,我也会在日记中记下。这个爆料内容翔实、细节丰富,且有图片为证,我认为是可信的。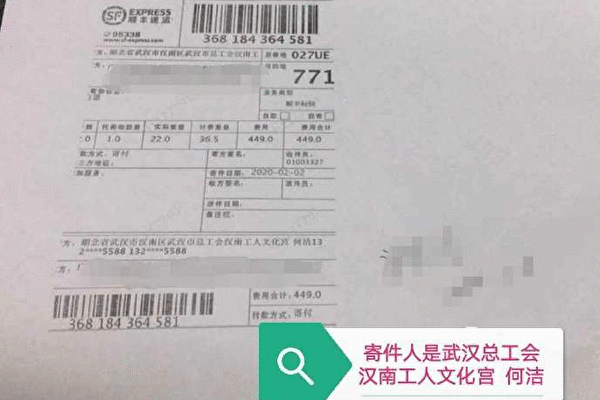 两个内容结合起来看,答案呼之欲出了。
只是,哪怕我们知道,他们也知道我们知道,但我们仍然无能为力。这就是"极权"的含义:我做的好事,你们都要为举国体制优越性欢呼,我做的坏事,你们都要闭嘴。
前两天新型肺炎"血浆治疗法"的消息刚刚出来的时候,我在本地群里看到有人"提醒"这个消息要谨慎转发,因为怀疑"是境外势力制造假消息,通过搅浑水扰乱一线救治"。说这话的人好像还是一位老师。
今天在微博上看到一位志愿者的vlog,他一直奔走在帮助患者的一线。在他的视频转发中有一个人说"不要为某些境外势力提供素材,这一点最重要"。
我不知道要怎么组织精准的语言形容我看到这些的心情,我感觉自己深究下去会溺死在这种绝望和愤懑的情绪之中。我对这些语言的难过程度甚至超过了疫情本身。中国人太惨了,悲痛和泪水都不能被人看到,否则就是"不爱国""缺乏党性",而你作为一个"人"的存在,在集体名词面前似乎毫无意义。
最近在看一部台湾剧,剧情是很轻松的校园纯爱剧,虽然没有特别之处,我却看得五味杂陈,因为在这部电视剧里,每个人都可以大方自然的高呼"追求自由"。
虽然我们大陆的"社会主义核心价值观"里也有"自由",但是我们每个人在说这个词的时候,会有耻感、会有恐惧、会有戏谑、会有警惕、会有审慎,还有不少人会下意识"我们要辩证地看"……唯独难有如此坦荡与大方,自然得如与生俱来一般。
我真是太羡慕了。